After months of application and finally landing at Cure.fit as an internship in 2018, I realized the importance of a portfolio which not only presents your work, process but also how you approach things and your personality. Before designing my portfolio, I used multiple social links while applying at various companies, and with this current era of online application recruiters are bombarded with such portfolio links, and they spend only minimal time on each. I started designing with the motive to make this time worth and engaging for the user while presenting myself in the best way.
Why website?
There are multiple ways in which one can share a portfolio, and it can be a portfolio pdf, Behance, or Dribbble link, website etc. Where most of the online portfolios like Dribbble help designers share what they are up to, mainly focussing on visuals and UI. These platforms are perfect for reach and online presence, but most of the time, companies are not looking for such content.
"Content is the king" is valid for portfolios as well, but the presentation is what helps you stand out from the crowd. Here are a few points which helped me decide to have a website as my portfolio:
All content under one link - The conventional method of sharing multiple links in the cover letter makes it difficult for the recruiters to navigate.
Gives personality to your portfolio and helps you make a proper story out of your content.
Problem with sharing a portfolio pdf - Users never prefer downloading pdf, and a good quality portfolio generally has a high load time.
SEO (Search Engine Optimization) brings organic users to your content
Research and Exploration
Before I started exploring ideas, It was essential to know my users, their goals, and things that need to be taken care of. Articles online really helped me know for whom to design and what to design. I studied several articles on medium, smashing design, nngroup, and other sources about designing portfolios. Checking other portfolios on the web was also a crucial part of the exploration, how they are trying to solve problems and trying to find out the reasons behind some decisions.
Why spend time on extracting the data which is readily available on the web.
Being on my internship, I also talked to a few designers over there to understand what they look for in a portfolio.
Starting with the landing page
Making sure that users can easily navigate through your content is an essential aspect for every product. Once I was evident with the users' intent and what are the things to be focussed, it wasn't tough to work on navigation.
The idea was to make it simple and sweet, content being the hero and serving the purpose rightfully, with no complications, flying elements, animations, etc. At the same time, content can't do everything on its own, building a story is essential; content with no context does no good. I decided to kick off the experience with an introduction, then taking users to my case studies, where the user may dig deep down into the details.
Branding and Visuals
It was challenging to get sure of the visuals I wanted for my portfolio, and it should not only give a unique personality to it but also empower the content. It took me some time and quite some iterations, but in the end, the result was satisfactory.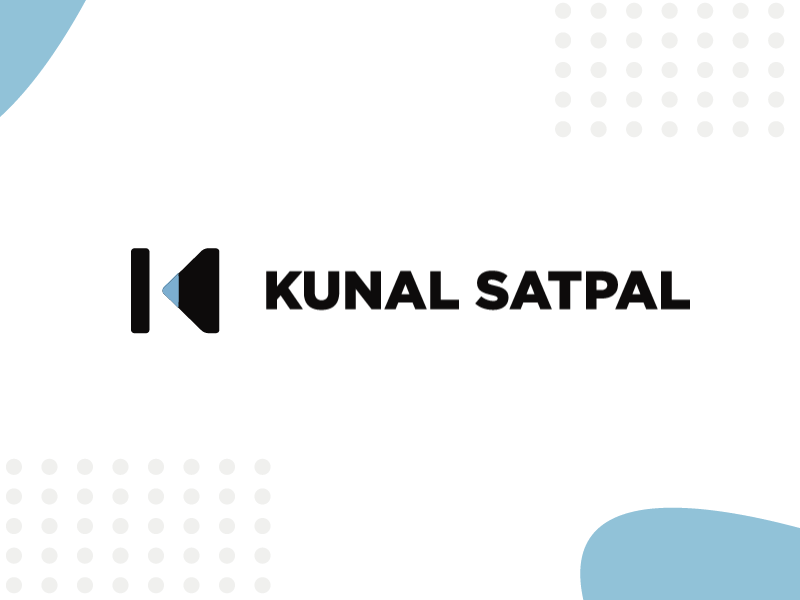 Working on the personal page
Every page has its story and for this page the story was about my life. I wanted to make sure anyone who lands on this page gets to know my professional as well as the personal self, Who is Kunal Satpal? What he believes in? What does he enjoy?, and what matters to him the most? Everything had to be answered.
Development Phase
I was no developer back then, it took me quite some time to perfect every part of it, but in the end, it was amazing, and I also learned a lot about development in the process. Thanks a lot to Praduman Goyal and Dhruv Bhanushali for helping me out with this.
Installing google analytics
A very minute task, adding 3 lines of code to every page of the website and you can track every aspect of your website performance. Google Analytics is a very powerful tool which helps in analysing user behaviours, check drop rates, bounce rates, exits, session time and do this for all different cohorts and time frames.
Launched - 26th September 2018
The launch is where the real journey started; it is the part where designers start validating their assumptions and working according to the feedback and new insights. I got several messages on social media from people who liked the website. I also got a handful of feedback on my website, from the readability, layout to the content. It was really a experience for me
After the launch
Launching was just the first step, the following section is the journey of how and why I kept on experimenting with my portfolio and what all I learned in this time.
What to do once it is is launched?
By putting out your portfolio on the web and showcasing people. You'll get lots of love and feedback at the same time.
Keep it alive, present it to as many people and designers possible, know their views/feedback for the same.
Don't hesitate with the feedback and note them all.

December 2018: The first experiment
One significant feedback I got from my colleague Sai Nihas- "There is much description on the home page, what purpose does it serve"
I knew my users already, they are busy people bombarded with a number of such websites. Are they willing to read? Too much text and content on the home increases cognition and it's only about a few seconds, they drop out. Our busy users with a very low attention span needed something that they can consume easily.